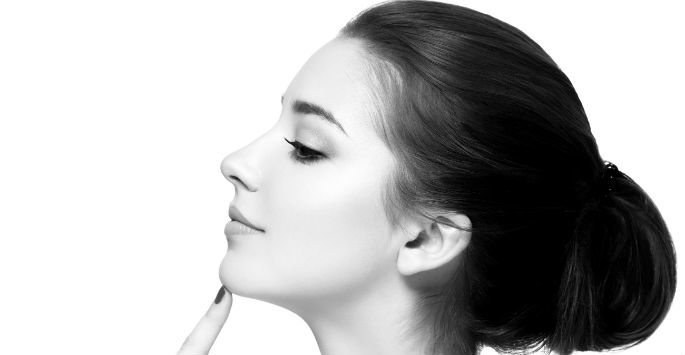 Just imagine a nose job that requires no surgery. Non-surgical liquid rhinoplasty is one of the latest and greatest innovations in the cosmetic industry. With these treatments, it's possible to dramatically alter certain aspects of your nose for increased aesthetic balance and a far better look overall. Moreover, these procedures are performed without any incisions or alterations of the bone or tissues. Instead, they take advantage of strategically placed injections using long-lasting dermal fillers.
The Goal of Liquid Rhinoplasty
Liquid rhinoplasty is an amazing advancement in nose job procedures due to its greatly reduced risk and recovery time. Liquid rhinoplasty is performed by injecting dermal fillers into certain areas of the nose in order to achieve a nose size and shape that's better-suited to the patient's face. Liquid rhinoplasty is meant for adding volume to alter facial aesthetics. Another important difference between liquid rhinoplasty and traditional rhinoplasty is that this treatment does not provide any functional benefits. It will not improve snoring, sleep apnea, mouth breathing, or other issues resulting from problems within the nasal passages.
Liquid Rhinoplasty to Complement Other Cosmetic Procedures
Treatments like these are often recommended for people who have had chin implants, cheek implants, or other facial alterations that have disrupted or diminished their facial balance. Streamlining the nose to suit changes in facial proportions will allow for better symmetry and overall aesthetics. When preparing for other cosmetic procedures, our provider can tell you whether or not liquid rhinoplasty is essential for reaching your cosmetic goals.
What to Expect During and After a Liquid Rhinoplasty Treatment
During the course of this treatment, our provider will make injections in the area of the nose that requires enhancement. The procedure is customized for the patient based on their wants and needs. After the treatment, most of the results should be visible. However, the results will continue to improve over the following days. The results can last for six months to one year, depending on the filler used and other factors.
For many people, liquid rhinoplasty at Colen MD Plastic Surgery is a godsend. It allows them to address issues they have with their nose without having to undergo surgery. If you are interested in this procedure for yourself, contact us today to schedule a consultation at our office in Bergen County or Manhattan/NYC.