Who doesn't love summer?  There's no better time to sit by the poolside or enjoy a day at the beach sunbathing and chasing waves.  Family vacations and romantic weekend getaways give us ladies the perfect excuse to head to our favorite department store.  Yet for many women, finding the perfect summer attire can be a dreaded task.
There's nothing quite like finding the perfect bikini on the rack only to try it on and feel as if your imperfections are screaming at you to take it off.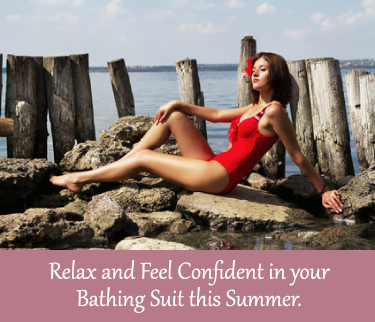 As we age our skin loses its elasticity, unfortunately for women this includes the vaginal area. If you have noticed loose, sagging, or excess skin that looks unsightly in your bathing suit and leaves you feeling embarrassed, you should know there is a procedure that could help fix your vaginal imperfections. Labiaplasty is one way to reduce sagging or excess skin.
What Is Labiaplasty?
Labiaplasty refers to a cosmetic gynecology procedure, which reduces the size or changes the shape of the lips on the exterior of a woman's vagina.  It can refer to labia majora, the external lips which are also hair bearing, or labia minora, the internal lips located inside and enfolding the vaginal opening, urethra and clitoris.
The technical term for labiaplasty is labia change which could include reduction, changing shape, and/or reconstruction of a deformed or missing part.
Is Labiaplasty right for me?
Some women worry that a labiaplasty may decrease their sexual pleasure. This is not true, since the clitoris which is the female structure most associated with sensory pleasure is not involved or changed during this procedure.
Labiaplasty is done for many reasons, including:
Development of hypertrophic or enlarged labia minora after multiple childbirths or as the result of aging.
Development of  varicosities in their labia majora after childbirth
Development of atrophy of labia majora after menopause
The Labia minora may be unusually large or have an unusual shape during puberty
For many women, having an imperfect labia is a source of embarrassment, especially during sexual intercourse. This often leads towards a loss of self-esteem and also can cause a loss of libido. If the extension of the labia called crura cover the clitoris it may also cause decrease in sensation during sexual activity.
Chronic irritation of the labia can sometimes develop, which results in genuine discomfort during sex, athletics (bicycling, spinning) and wearing fitted pants or bathing suit.
Labiaplasty at The Cosmetic Gynecology Suite in New York City
At the Cosmetic Gynecology Surgery Suite, you will receive the attentive and superb personal care you deserve when you decide to have plastic surgery of the vaginal area such as labiaplasty. It is one of the very few such facilities where the top Board Certified Plastic Surgeons work with the very best Board Certified Gynecologists to provide a combined approach to the complex cosmetic and functional problems of labia, vagina and bladder.
To schedule a consultation, call The Cosmetic Gynecology Surgery Suite at (212) 772-1300.
Our experienced, well-trained, compassionate professional staff is ready to provide you with the knowledge and medical expertise you need to make the correct decisions, and will also guide and support you through the surgical procedures.