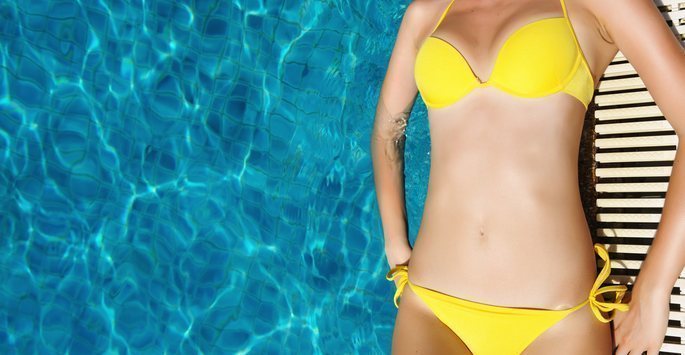 A tummy tuck or abdominoplasty is a cosmetic surgical procedure in which our surgeon tightens the patient's abdominal muscles and removes excess fat and skin. A tummy tuck can be performed on its own or in conjunction with another procedure.
Both men and women can find tummy tucks beneficial. As people age, their muscles weaken and their skin becomes less elastic, so even fit people of a normal weight may develop a sagging or protruding abdomen with time. Other causes of a sagging stomach include the following:
• Significant changes in weight
• Pregnancy
• Heredity
• Earlier surgery
What Does a Tummy Tuck Involve?
There are actually several different types of abdominoplasty, so the procedure can take anywhere from two to five hours. In most cases, we will give the patient general anesthesia. If the patient does not need to have any muscles tightened and only needs to have some excess skin removed, we may give them a local anesthetic and IV sedation instead.
The complete or traditional abdominoplasty is the most common type. We work on the entire abdominal area, and we may combine the surgery with abdominal liposuction.
We often use partial or mini-abdominoplasties on patients whose chief issues are below the navel. The results are less dramatic, but the recovery times are shorter. Endoscopic tummy tucks are for patients who have weakened abdominal muscles but not much fat or excess skin. We will help you decide which type of procedure would be best for you during your consultation.
What Are the Usual Results?
The recovery time can vary from two weeks to several months, depending on how much work we did and the technique we used.
The results of abdominoplasty are hypothetically permanent. Once we remove the excess skin and fat, it is gone. To ensure the results last as long as possible, patients should keep up with a healthy diet and exercise routine.
Who Is a Good Candidate for Abdominoplasty?
The ideal candidate for a tummy tuck will be an adult of normal weight with good overall health and realistic expectations. They need to understand that a tummy tuck is not a weight loss procedure, and it is not a substitute for diet or exercise. Rather, it is intended for those who are struggling with loose skin and excess fat in their midsection despite regular diet and exercise. If this describes your situation, a tummy tuck will likely be able to help you.
Call Us Today
To learn more about the different abdominoplasty procedures and how they can help you, contact us today to schedule an appointment with any of our experienced surgeons at Colen MD Plastic Surgery. We have offices in both New Jersey and Manhattan/NYC.